• An international aid effort is being stepped up in southern Turkey and northern Syria following a huge earthquake that has killed more than 5,000 people
• Rescuers are racing to save people trapped beneath the rubble after thousands of buildings collapsed in both countries
• In northern Syria people trapped beneath the rubble are calling out for help but there is almost no one to respond to their calls
• The 7.8 magnitude quake struck near Gaziantep in the early hours of Monday while people were asleep
• A 7.5-magnitude tremor then hit at around 13:30 local time (10:30 GMT), which officials said was "not an aftershock"
• The country's disaster agency says more than 3,419 people were killed in Turkey alone after the first quake, and more than 15,000 were injured
• More than 1,600 people are reported to have died in Syria
• Countries including the US and South Korea are sending aid after Turkey issued an international appeal for help
We're beginning to hear just how many people could be affected by these earthquakes, with the World Health Organization (WHO) estimating that as many as 23 million people across Turkey and Syria "are exposed".
This includes around over one million children, WHO's senior emergencies officer Adelheid Marschang told the UN health agency's executive committee earlier.
Issues are already cropping up in Syria, which felt the effects of both quakes, with the flow of critical UN aid from Turkey being blocked due to damage on roads.
"This is a crisis on top of multiple crises in the affected region," Marschang said of Syria, adding the country's needs are high after "nearly 12 years of protracted, complex crisis, while humanitarian funding continues to decline".
____________________________________¦
Calls of Allahu akbar as survivors and bodies are found

Quentin Sommerville
Reporting from Adana, southern Turkey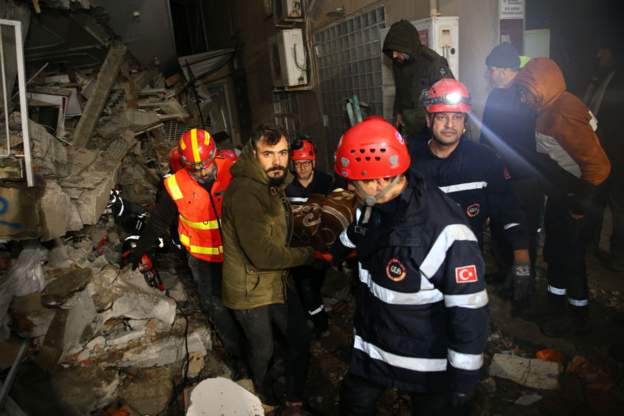 The heavy machinery worked through the night here in Adana, klieg lights illuminating the collapsed buildings and huge slabs of concrete in monochromatic scenes repeated across southern Turkey.
Occasionally the work would stop, a call of Allahu akbar would rise up when a survivor is found, and too when the dead were recovered.
A big Turkish and international rescue effort is under way here. My plane from Lebanon was full of firefighters and paramedics, on arrival Adana airport was packed with Swiss and Romanian rescue workers in their hundreds.
The city is full of the homeless. Those who lost their homes and others too fearful of aftershocks to return to apartments and houses. The first earthquake struck in the middle of the night, 03:20 local time (00:20 GMT). It shook and thundered for 90 seconds, it felt like forever, but at the same time was only an instant to collect belongings and leave for safety. Some left without shoes, coats and phone chargers. Temperatures are expected to drop below freezing later this week.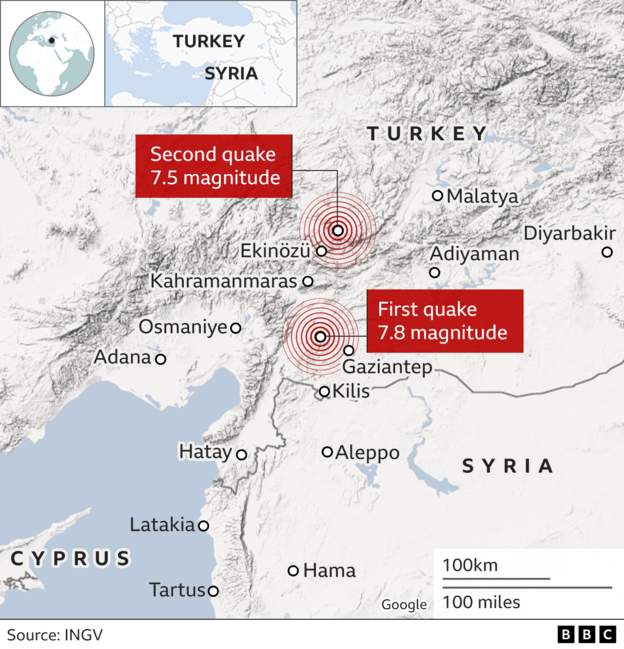 As much as this is a catastrophe for Turkey, the situation in northern Syria is more desperate. The border remains tightly controlled, there is no international rescue effort and little heavy machinery.
The 1.7 million displaced people living on the border thought their lives couldn't get any worse, then the earthquake came. They'd been living in temporary shelters and half-finished buildings for years, refugees in their own country, escaping Syrian President Bashar Al Assad's reign of terror.
In Jinderes, Aleppo, and Bsania, Idlib, entire towns collapsed around the people. They call out for help and cry in pain, but there is almost no one to respond to their calls. In northern Syria more than a decade of war left the people had almost nothing, this terrible earthquake has left them with even less.
▪︎ Source: bbc.com